Well I think I can count this week as basically a success, considering we still had sick kids and a tired momma! I was able to get up early 2 days this week; eventually I'd like it to be every day. It's hard getting up so early with the baby still waking up during the night.
And we accomplished almost everything on our school schedule; very unusual! Usually we have several items that keep getting bumped back.
This week started our
Time Traveler's New World Explorers
unit. We are not doing every single lesson. We are also using
Trail Guide to World Geography
and I've lined up some of those lessons to coincide with our history.
We do history 3 days a week. So, this week we did lesson 1,3, and 4, covering the why's of exploration and about the ships. We also did ch. 28 of
Story of the World
volume 2. We have been using SOTW as our history, and will keep using it alongside TT. For geography, we did week 1, world geography.
About Time Traveler's: So far, I love it. The one thing I would recommend, and I did it because I found it recommended elsewhere, is to do all the copying ahead of time. There is a lot of printing/copying that needs to be done. I actually did it in 2 big batches. When I first got the cd, I was so excited that I went and printed out all of the text pages and a lot of the masters and put it all in a nice binder. Last week when I sat down to do my detailed planning, I printed out the rest of the masters and the things that needed to be put on cardstock. It is quite a lengthy ordeal. But it looks great, and once that is done, it won't need to be done again and is easy to use.
The projects in TT are great. They seem to be varied for ages, so I think when we go back through this again in a few years, there will still be stuff for the olders and the youngers to do.
I went to the library and got some books to go along with what we're learning:
Ships - Philip Wilkinson 387.2
DK Eyewitness Boat 623.8
A 16th centry Galleon - Richard Humble, Peter Bedrick 623.822
Exploring the World - Fiona Macdonald 910.9
In 1492 - Jean Marzollo E M
Around the World in a Hundred Years - Jean Fritz 910.922
Here are some pictures of some projects from New World Explorers that we did this week:
5 reasons for exploration, and anatomy of the ship. There are fold up boxes that show the answer to what part of the ship it is.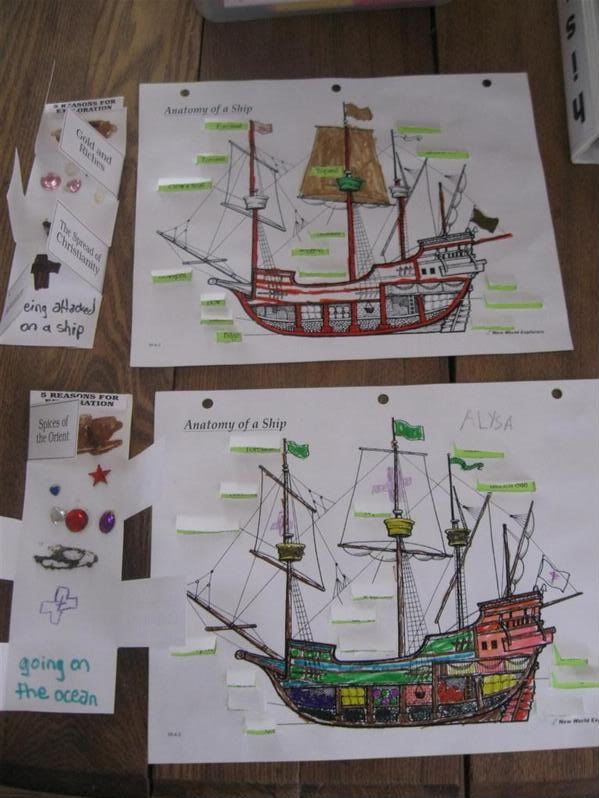 We weren't going to do the 'build a ship' project because of time and space, so on her own - before we even started the unit, actually, my dd drew up blueprints of her ship, and then proceeded to color it, make the flag, and get her dad to help her build it. I was very impressed.